Hygienic food grade Progressive Cavity Pump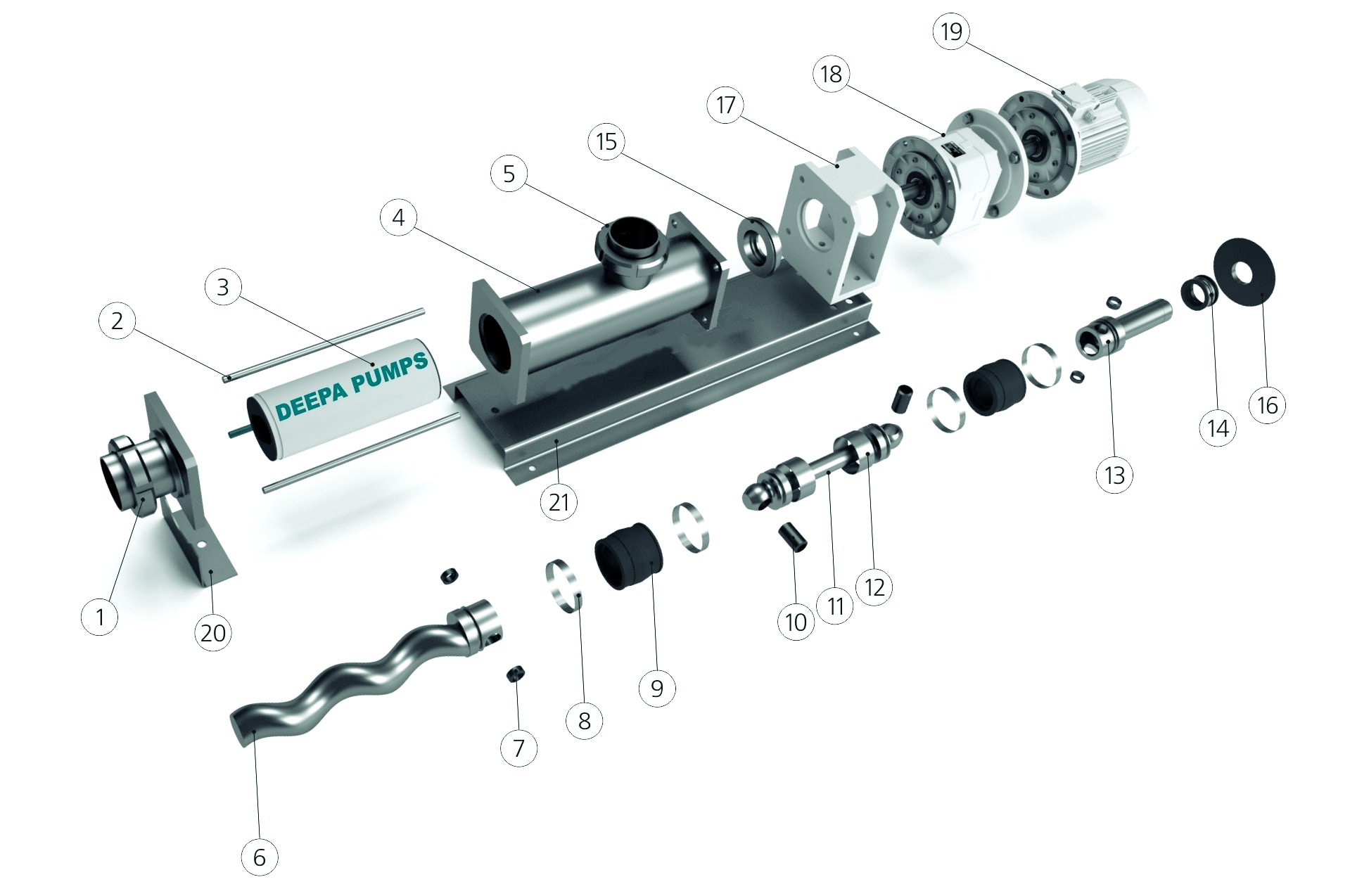 Hygienic food grade Progressive Cavity Pump
DPF AND DPH series pumps are designed for handling food applications. All metallic parts in contact with the medium being handled are fabricated in smooth finish stainless steel. These pumps are provided with metal bonded aseptic food grade elastomeric stator resistant to oil & fats. These pumps are standard with closed universal joints enabling it to handle fluids which are poor lubricants like aerated or dematerialized water as well as lubricating type applications.
Available in close coupled and bare shaft configuration. Sealing is by Hygienic quality packed gland or Mechanical Seal. These pumps are also available with CIP port configuration. For high viscous and difficult to flow liquids these pumps are also available with wide throat configuration.
EXPLODED PARTS
1.       DELIVERY PIPE

2.       TIE ROD

3.       STATOR

4.       PUMP HOUSING

5.       INLET PIPE

6.       ROTOR

7.       BUSH

8.       BSR

9.       BOOT SEAL

10.    COUPLING PIN

11.    COUPLING ROD

12.    PRS

13.    SHAFT

14.    MECHANICAL SEAL/GLAND

15.    MECH. SEAL HSG/ STUFFING BOX

16.    RUBBER RING/  SEAL RING

17.    BODY/ BEARING HSG

18.    GEAR BOX

19.    ELECTRIC MOTOR

20.    SUPPORT LEG

21.    BASE PLATE
More Info
✓Contact parts in smooth finish stainless steel
✓Stators are made of non-contaminating food grade polymers, resistant to oils, fats etc
✓All internal contours are designed to be swept by the product flow or by a detergent when "in-line" cleaning
✓Elimination of product retaining pockets avoids chemical or bacteriological contamination
✓Simple construction allows quick dismantling along with easy mounting joints ensures service friendliness.
✓CIP (Cleaning in place) design allows for residual-free and bacteria-free cleaning.
✓SIP (Sterilization in place) can be done using Superheated steam for in-process equipment
✓Can work against high vacuum. Ideal for lifting viscous fluids from the vacuum pan.
✓Low fluid velocities ensures gentle handling of shear sensitive fluids without damage
WETTABLE HOUSING COMPONENTS :
• Fabricated Stainless Steel.
STATOR :
• Nitrile Black • Nitrile White • EPDM Black • EPDM White • Fluoroelastomer.
ROTOR :
• Stainless Steel.
COUPLING ROD :
• Stainless Steel.
SHAFT :
• Stainless Steel.
OTHER EXOTIC MATERIALS :
Duplex • Super Duplex • Alloy 20 • Haste alloy.
| | |
| --- | --- |
| Apple pulp | Liquor |
| Amla pulp | Lotions and Creams |
| Beer | Malt extract |
| Beverages | Medical formulations |
| Biscuit dough | Milk |
| Butter oil | Squashes |
| Cream | Sugar syrup |
| Curd | Tamarind extract |
| Demineralised water | Tooth pastes |
| Edible gelatine | Tomato paste |
| Fruit juice | Vegetable refined oil |
| Fruit pulp | Wine |
| Glucose | Yeast |
| Ice cream mix | Yoghurt |
| Jams | Latex |
| Chawanaprash | Pickle mix |
| Mash grapes | Minced meat |
Contact Us for Any Query
We Are Always their to help You