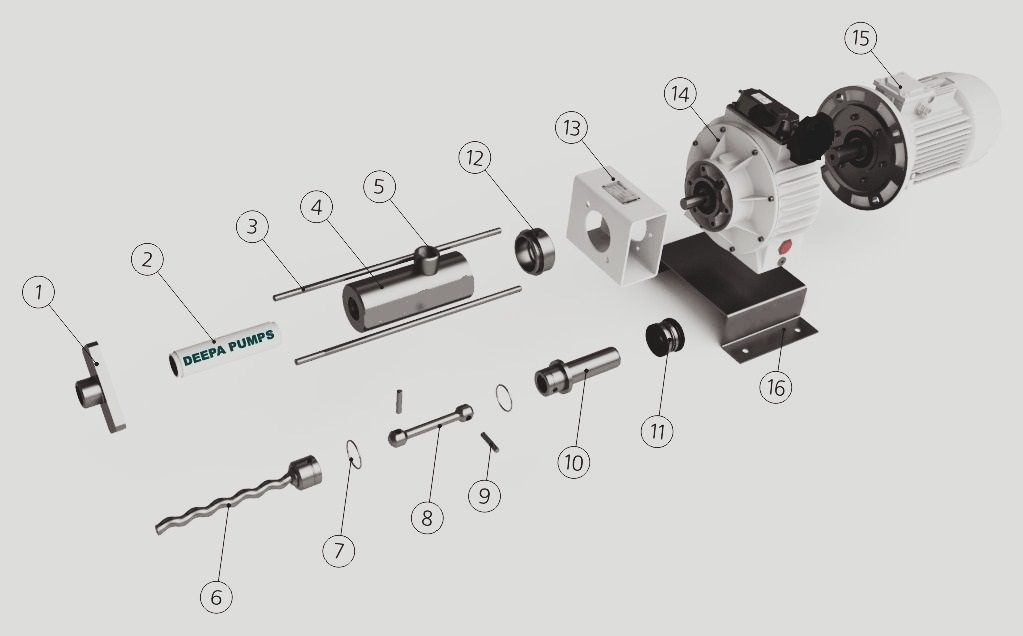 Our DPDC & DPDS Dosing Pump is an accurate pump for the precise dosing of a great variety of chemicals in environmental technology and the chemical industry. Its synthetic construction makes it perfectly suited for the gentle and low-pulsation conveyance and dosing of aggressive or non-aggressive chemicals. Natural and artificial polymers, anionic and cationic polyelectrolyte's, iron and aluminum salt solutions (e.g. ferric chloride), lime water, water and wastewater samples, suspensions, organic and inorganic acids and bases.
EXPLODED PARTS
1.       OUTLET PIPE

2.       TIE ROD

3.       STATOR

4.       PUMP HOUSING

5.       INLET PIPE

6.       ROTOR

7.       BUSH

8.       BSR

9.       BOOT SEAL

10.    COUPLING ROD BUSH

11.    COUPLING ROD

12.    PRS

13.    SHAFT/YOKE SHAFT

14.    MECHANICAL SEAL/ GLAND

15.    MECH. SEAL HSG/ STUFFING BOX

16.    RUBBER RING/ SEAL RING

17.    BODY

18.    GEAR BOX

19.    ELECTRIC MOTOR

20.    SUPPORT LEG

21.    BASE PLATE
More Info
Inherent Self-Priming Capability
Non-clogging
Low NPSH (R)
Non-pulsating and smooth flow
Low Operating costs
High suction lift capability of up to 9.0 MWC
Gentle Handling of shear sensitive & abrasive media due to low internal velocity
More Info
WETTABLE HOUSING COMPONENTS::
• Cast Stainless Steel
STATOR :
• Natural, • Nitrile, • High Nitrile, • EPDM, • Hypalon, .
ROTOR :
• Stainless Steel.
COUPLING ROD :
• Stainless Steel.
SHAFT :
• Stainless Steel.
OTHER EXOTIC MATERIALS :
Duplex • Super Duplex • Alloy 20 • Haste alloy.
OTHER EXOTIC MATERIALS :
• Ceramic Coatings • Tungsten Carbide • Hard Chrome Plating
| | |
| --- | --- |
| Wastewater Treatment | Chemical Processing |
| Food and Beverage Industry | Pharmaceutical |
| Pulp & Paper | Cosmetic |
| Sugar and Distillery | Paints and Varnishes |
| Oil and Gas | Proteins & Fats |
Contact Us for Any Query
We Are Always their to help You