Industrial & Chemical Progressive Cavity Pump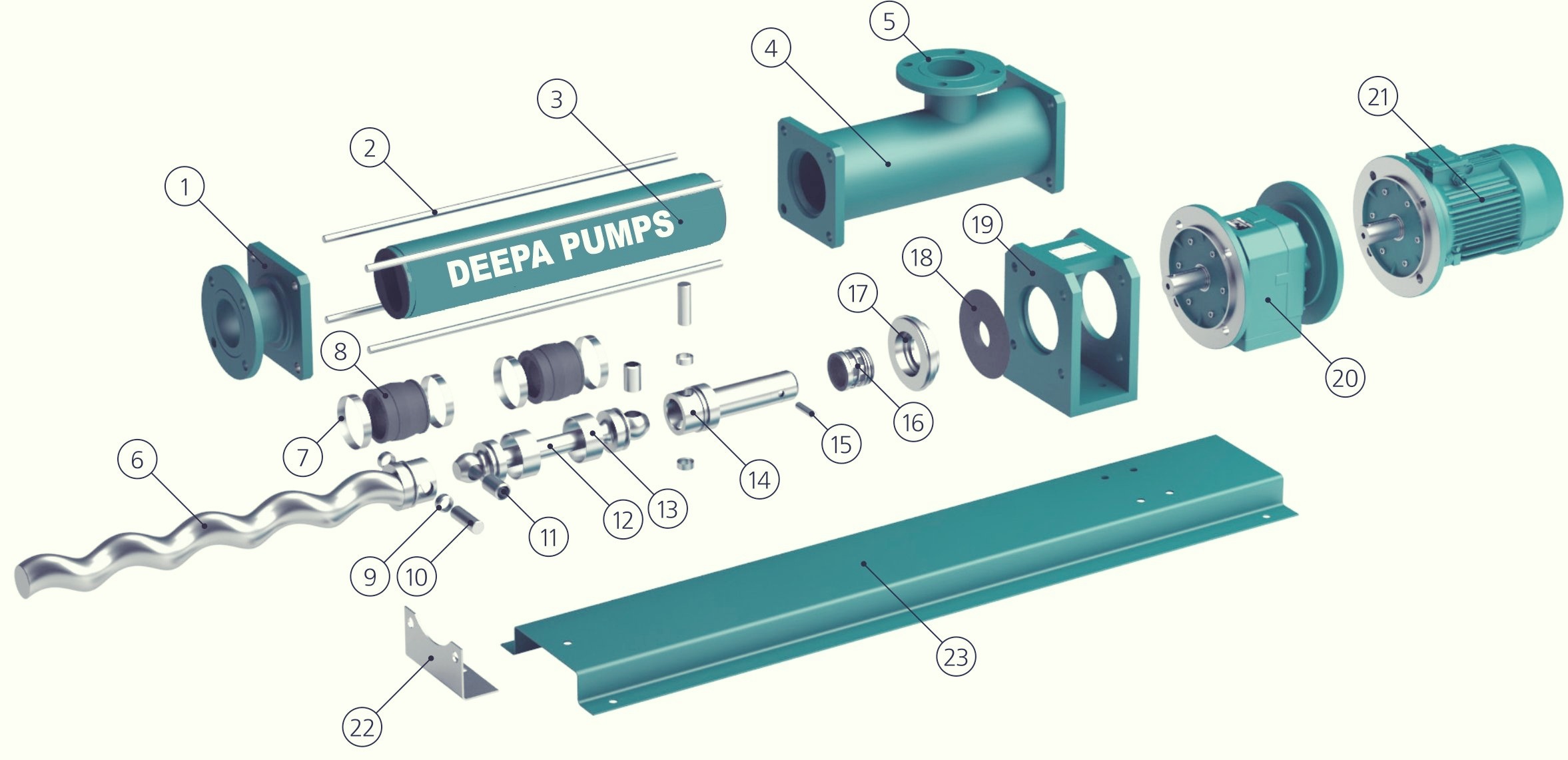 Industrial & Chemical Progressive Cavity Pump
Progressive Cavity pumps are of heavy duty construction and are designed to pump 'tough – to – handle' fluids with ease. These pumps are used in many areas of Industry. The construction of these pumps is based on the modular concepts and incorporate next generation pumping elements (molded to metal) stator, solid shaft and double sealed Cardan Universal Joints for improved performance and longer service life. These pumps are available in bare shaft and close coupled configuration. 6 and 8 stages in select sizes. A variety of material of construction, shaft sealing options are also available.
EXPLODED PARTS
1.       DISCHARGE FLANGE

2.       TIE ROD

3.       STATOR

4.       PUMP HOUSING

5.       SUCTION FLANGE

6.       ROTOR

7.       BOOT sEAL RETAINER

8.       BOOT SEAL

9.       GUIDE BUSH

10.   COUPLING ROD BUSH

11.   COUPLING ROD PIN

12.   COUPLING ROD

13.   PRS

14.   SHAFT/yoke shaft

15.   SHAFT PIN

16.   SEALING PLATE

17.   SHAFT SEALING

18.   RUBBER RING

19.   BODY/ bearing hsg

20.   GEAR BOX

21.   MOTOR

22.   SUPPORT leg

23.   BASE PATE
More Info
1. Patented joint due to its tested longer-life parts
✓ Steady, low-pulsation pumping
✓High self-priming rate,
✓Installation possibilities in all positions
✓Direction of rotation and thus delivery flow reversible
✓Non-clogging: handles solids in suspension or mixture containing high percentage of solids.
✓Can work on Snore: inherently self-priming.
✓High Suction Lift: low NPSH(R), effective in high vacuum conditions.
✓Minimal Internal Wear: Gentle handling of shear sensitive and abrasive products because of low internal velocity.
✓Reversible: suction and delivery ends can be interchanged by merely changing direction of rotation of the prime mover.
✓Versatility: handles abrasive, shear sensitive and viscous materials, solids in suspension and air-solid-liquid mixture.
More Info
WETTABLE HOUSING COMPONENTS :
• Cast Iron • Cast Steel • Stainless Steel 304/316 • Duplex SS • Monel Alloy • Haste alloy B/C
STATOR POLYMERS :
• Natural • Nitrile, • High Nitrile, • EPDM, • Chloro-Sulphonated Rubber(Hypalon), • Fluoroelastomer • Sillicone • HNBR
ROTOR :
• Tool Steel • Case Hardened Steel, • Alloy Steel • Stainless Steel 410/304/316/316L.
OTHER ROTATING ELEMENTS :
• Alloy Steel • Stainless Steel
EXOTIC MATERIALS AVAILABLE FOR SPECIAL APPLICATIONS :
• Duplex Steel, • Super Duplex • Monel • Haste alloy B/C
ROTOR COATING FOR SPECIAL APPLICATIONS :
• Ceramic Coatings • Hard Chrome Plating
FLUIDS HANDLED
| | | | |
| --- | --- | --- | --- |
| Gypsum Sludge | Calcium Carbonate Slurry | Bleaching Chemicals | Surfactants |
| Detergents | Neoprene-Latex Compound | Paper Machine Additives | Pulp stock |
| Caustic | Photographic Emulsions | Flocculants | Fillers Like: Aluminum Sulphate, |
| Liquors | Polyester Blend | Offshore Oil Platform Transfer | Bentonite, Resin size and China/Kaolin Clay |
| Oil | Retaminol | Lime Slurries | Thickener Underflow |
| Chemical Feed and Metering | Polymer Metering | Thickened Digested Sludge | Filter Press and Incinerator Feed |
| Clay Slips | Titanium Dioxide | Alum Transfer | Filter Cake |
| Paint | Paraffin | Activated Sludge | Dewatering |
| Fertilizers | Paints and Inks | Scum and Grease | Sampling |
| Insecticides | Cleaning Solutions | Chemical Metering | Sludge Transfer |
| Adhesives | Deicing Fluids | Ferric Chloride | Polymer Injection |
| Agricultural Spray Wash | Explosives | Coal Water | Coal Oil Slurries |
| Antifreeze Lubricants | Hazardous Wastes | Wastewater | High Pressure Wash |
| Latex | Plastic | Clay and Mineral Slurries | Recovery |
| Auger Feed Screw Applications | Gels | Treater Battery Applications | Polymer Flooding |
| Acetone | Calcium carbonate | Multiphase Fluid Transfer | Skimmed Oil |
| Dispersion | Ferric chloride | Latex | Fine chemical make down systems |
| Colorants | Urea | Chemical Metering | Medium Consistency Pulp |
| Isopropanol Alcohol | Rubber | Mill Wastewater | Clay Slurries |
| Magnesium Hydroxide | Lecithin | Coatings | Defamers |
| Phenolic Resins | Methanol | Coating Color | Titanium Dioxide |
| Phosphate | Sodium chloride | Starch Slurry | Calcium Carbonate |
| Spent Filter Media/Resin | Organic compound | Cooked Starch | Resin |
| Corrosive Chemical Feed | Flare Knockout Drum | High Pressure Shower | Calcium Stearate |
| Sludge | Lube Oil | Coating Kitchen Chemicals | Coating Machine Pumps |
| Oil/Water Separation | Crude Oil and Water Transfer | De-inking Chemicals | Proportioning systems |
| Drilling Mud Transfer | | | |
Contact Us for Any Query
We Are Always their to help You